On-going Research Projects
Many of our tasks ask children to learn new words -- in games, on the computer, or by viewing slides. We do this to understand how learning works and how it can be made easier. We are also interested in real world, everyday learning in naturalistic settings.
In the past, we (and lots of other researchers) followed young children around with cameras and clipboards, trying to understand their every day learning experiences. But these techniques just allow us to see the child in the world, they don't show us the child's world in the sense of what the child sees. In very exciting new research, we are putting lightweight head-cameras on children, a first attempt to see the world as they do.
Below is a list of our current studies and the ages that researchers are seeking for participation. We hope you find a study that excites you and sends you eagerly to filling out our on-line participation form.


---
Early Visual Environments of Infants and Toddlers and the Homeview Project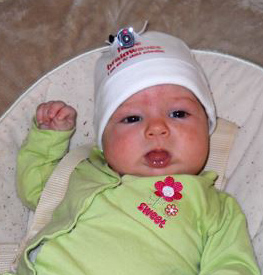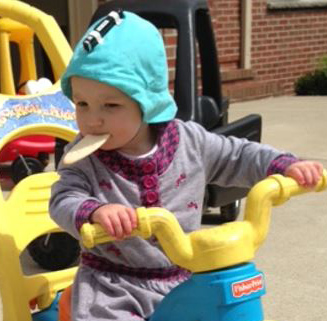 Researchers: Swapnaa Jayaraman, Jeremy Borjon, Elizabeth Clerkin, Christina DeSerio, Hadar Karmazyn


Ages needed: 0 - 24 months
Visits: 2 visits - to obtain, then return head camera
Study description: We want to understand what is in the visual environments of infants and toddlers, and whether they change across the first two years of life. We give parents a soft cap - with a light-weight camera sewn in - to place on their infant's head. Parents are asked to turn the camera on whenever the infant is awake to record the natural scenes in their infant's everyday lives. Statistical regularities in visual environments are deeply connected to the visual system. Characterizing and quantifying the early visual environments of infants and toddlers may help us understand how the visual system gets built.
---
Visual Memory in Young Children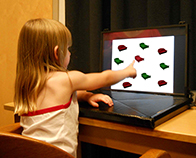 Researcher: Elizabeth Clerkin



Ages needed: 30 - 42 months, 54 -66 months
Visits: one-time visit
Study description: We are interested in how children retain visual information. Children will play a matching game like "Memory" on a touch screen computer to test how they can tell apart images they have seen from images they have not.
---
The Development of Place-value Concept and Multi-digit Numbers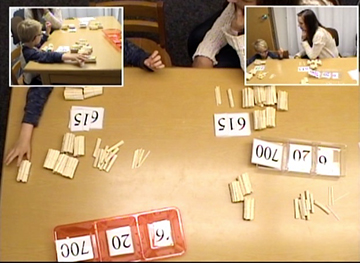 Researchers: Lei Yuan, Emily Johns


Ages needed: Kindergarten and 1st Grade
Visits: Because this study requires 8 sessions on separate days, it is currently ongoing only in schools and after-school programs
Study description: Preschool children already have early implicit understanding of multi-digit numbers; for example, they can pick out the bigger number between 230 and 302. How do they acquire this knowledge? We study what kinds of learning experience (e.g., seeing multi-digit numbers in books, playing with base-10 blocks) can lead to early implicit knowledge of multi-digit numbers, and the consequence of having this knowledge to later school learning of the place-value concept in mathematics.
---
Distributions of Visual Attention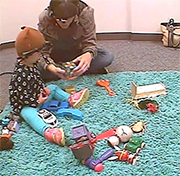 Researcher: Hadar Karmazyn


Ages needed: 15 - 21 months
Visits: one-time visit
Study description: In this study, we want to understand how children distribute their attention to learn about toy objects during a free play session. Free play allows us to explore naturalistic dynamics of parent/child interactions including eye-hand coordination and speech. Understanding individual differences across parent-child dyads allows us to learn about the underlying mechanisms of visual attention.
---
Learning How to Learn Words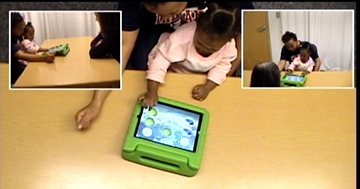 Researcher: Char Wozniak


Ages needed: 15 - 24 months
Visits: 2 visits, one week apart
Study description: We are conducting a study directed at helping children learn object names -- a first step in helping a late talker catch up to their peers in word learning. The study uses an iPad game designed by us to direct children's attention to the right properties to rapidly learn object names. Our preliminary results show that playing this game has an effect in increased saying of object names that persists one and two months after play. We hope to perfect this game with the long-term goal of using it to help children with more serious language learning problems.
---
Parent and Child Joint Play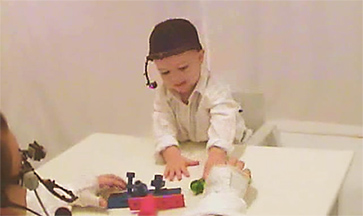 Researchers: Jeremy Borjon, Lauren Slone


Ages needed: 18 - 26 months
Visits: one-time visit
Study description: In this study we want to understand how parents and their toddlers work together in learning about words and objects. Everything in this play interaction helps us understand the dynamics of parent/child joint play: the hand, head and eye movements of both the parent and the child. By engaging in free-flowing play, our toddlers and their parents give us a valuable representation of how learning might happen in the toddlers' everyday lives.
---
Visual Scene Statistics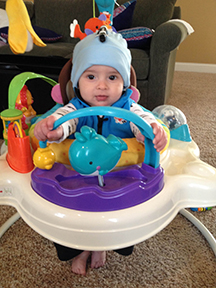 Researcher: Christina DeSerio


Ages needed: young infants up to 1 year of age
Visits: 2 visits - to obtain, then return head camera
Study description: This line of research explores how the visual experience of babies changes as they grow and learn to interact with the world in rapidly changing ways. We analyze the basic features of images collected from head cameras worn in the natural context of their home.
Back to the top